Box Of 60 Tegera 517 Insulated Waterproof Precision Work Gloves
SKU
BOX OF 60 TEGERA 517 INSULATED WATERPROOF PRECISION WORK GLOVES
EJENDALS TEGERA 517 INSULATED WATERPROOF PRECISION WORK GLOVES
Windproof, thermal and waterproof, the Ejendals Tegera 517 Insulated Waterproof Precision Work Gloves are the perfect gloves for winter, outdoor, cold store and freezer work. The polyester liner offers impressive dexterity which helps to improve your productivity while handling materials and operating machinery, while the extra grippy palm, warm fleece lining and protective liner all help to improve safety, usability and comfort.
WHY SHOULD I USE THE EJENDALS TEGERA 517 INSULATED WATERPROOF WORK GLOVES?
The Ejendals Tegera 517 Gloves are designed for when the conditions that you are in are harsh. Cold, wet, wind and more, these gloves will tackle it all. These gloves offer:
Waterproof liner
Cold resistance to -10°C
Windproof protection
Oil and grease protection
Flexibility for handling
Hi-vis markings
WHERE CAN I USE THE EJENDALS TEGERA 517 INSULATED WATERPROOF GLOVES?
As said above, these gloves are designed for harsh conditions. This can be in indoor simulated environments such as freezer and cold store work, or outdoor environments such as building, cycling and handling. While the gloves are waterproof, they aren't recommended for repeatedly submerging hands, but should keep your hands dry in light wet weather or while handling damp items. Suitable industries include:
If you don't think these gloves are suitable for your needs, then try clicking on any of the industries above to see further gloves for your chosen industry.
These gloves aren't limited to the list above, and are useful for most environments that demand protection from the elements and a little mechanical protection too. We've even had users who use them for cycling, as they've found that the durable, grippy palms, high flexibility and fleece lined warmth is perfect for winter cycling activities.
WHICH SIZE SHOULD I CHOOSE?
The Ejendals Tegera 517 are offered in four different sizes, the dimensions of which can be found below. To measure your hand, measure the circumference of your hand around the knuckles (excluding the thumb) with your hand open and your fingers together.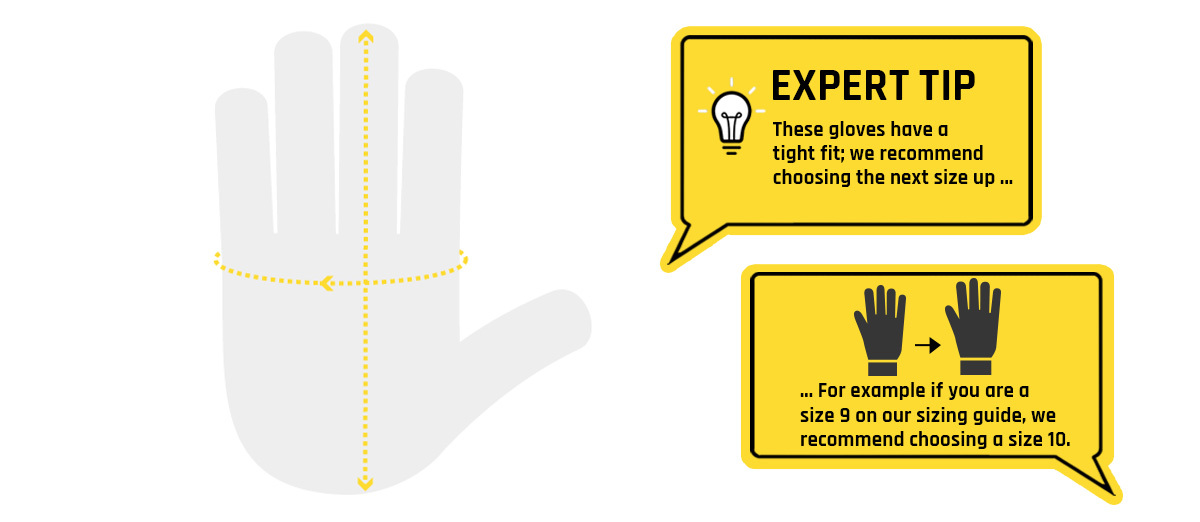 | Size | Circumference (mm) | Length (mm) |
| --- | --- | --- |
| Size 6 | 152mm | 160mm |
| Size 7 | 178mm | 171mm |
| Size 8 | 203mm | 182mm |
| Size 9 | 229mm | 192mm |
| Size 10 | 254mm | 204mm |
| Size 11 | 279mm | 215mm |
| Size 12 | Over 279mm | Over 215mm |
We would recommend selecting a size larger than your measurement, as the Tegera 517 Gloves can often be found to be quite tight fitting.
HOW WARM ARE THE EJENDALS TEGERA 517 WATERPROOF WORK GLOVES?
The Ejendals Tegera Gloves are snug and warm. They can protect your hands when you're handling materials that are around -10°C, helping you to retain comfort without feeling the bite of the cold. They are particularly good at retaining warmth over long periods, which is why they are so popular among shift workers who work in cold store and outdoor environments.
HOW WATERPROOF ARE THE EJENDALS 517 WATERPROOF WORK GLOVES?
They feature a synthetic leather polyester liner that will keep out the majority of water. They are however, designed more for entry level waterproof tasks, so if you want to use these gloves for constant wet conditions such as in window cleaning, we would recommend opting for some of our other waterproof gloves such as the Ejendals 295 Gloves.
If you don't believe us, check out how the 517's performed in the waterproof bucket test below. As you can see, not a single drop of water passed through the gloves.
HOW DEXTEROUS ARE THE EJENDALS INSULATED WORK GLOVES?
These gloves are advertised as precision gloves because of their thin synthetic leather liner that helps you to retain most of the dexterity. In combining dexterity and sensitivity, these gloves are the perfect tactile handling gloves, ensuring that you can retain productivity even in cold and wet conditions. Users say that although the thickness comprises dexterity a tiny bit, the majority of their handling skills are retained.
WHY SHOULD I TRUST THE EJENDALS TEGERA 517 INSULATED WATERPROOF WORK GLOVES?
You can trust these gloves because they are certified to a number of EN standards, which ensures that they say exactly what they say they do. They are tested to EN 388 (which measures their resistance to abrasion, cuts, tears and punctures) and EN 511, which measures their resistance to cold air, cold handling and water. They achieved the following results:
EN 388
| Hazard | Level of Resistance |
| --- | --- |
| Abrasion Resistance | Level 1 |
| Cut Resistance | Level 1 |
| Tear Resistance | Level 2 |
| Puncture Resistance | Level 1 |
| ISO Cut Resistance | N/A |
EN 511
| Hazard | Level of Resistance |
| --- | --- |
| Convective Cold Resistance | Level 1 |
| Contact Cold Resistance | Level 1 |
| Water Permeability | Level 1 |
WHAT DOES THIS MEAN?
The two charts above allow us to understand how the gloves will react to different hazards. Firstly, the gloves all achieve an okay score against mechanical hazards. This means that while the gloves won't protect you against a high level of risk, they will perform extremely well in lower risk tasks such as handling materials, gripping machinery and using tools.
Secondly, the gloves achieved good scores in relation to their resistance to cold. The level 1 in convective cold and contact cold resistance hazards means that they should protect you in conditions as low as -10°C. For more information on EN 388 and EN 511, you can see the tabs at the top of the page.
CAN I BUY THE EJENDALS TEGERA 517 INSULATED WATERPROOF GLOVES IN BULK?
If you are looking to buy for a number of people, then you can do so at a discount. Please see the below links:
WHY IT'S OUR "TOP PICK"
❛❛ A lot of our customers love the Tegera 517 Gloves – not only do they keep your hands warm and dry, but they also provide a lot more dexterity than other winter gloves. The 517 Gloves are perfect for hiking, winter walks, mountaineering, cycling and more. ❜❜
Faulty goods will be accepted for return within 3days of delivery to you if they are returned and undamaged.
Non faulty goods may be accepted, entirely at Safety Solutions discretion, within 7 days of delivery to you provided they are returned in perfect condition and have not been used.
Where we accept a non-faulty return you will be credited at the selling price less a handling charge plus inwards and outwards carriage.
Any goods returned to Safety Solutions which are not in the condition set out above will be rejected and returned to you at your cost.